As a legitimate market research company, Vindale Research is hired by brands you probably know and already buy to gather consumer insight. They use this info to improve their products, marketing efforts, and profitability. And that, friends, is why they pay you the big survey bucks!
Okay, you may not get rich doing surveys, but it's an easy way to make some extra cash on the side. Read on to see how you can join for free in under 2 minutes, how much money you can actually make, and the major pros and cons based on our user experience.
Vindale Research Review
Is Vindale Research legit?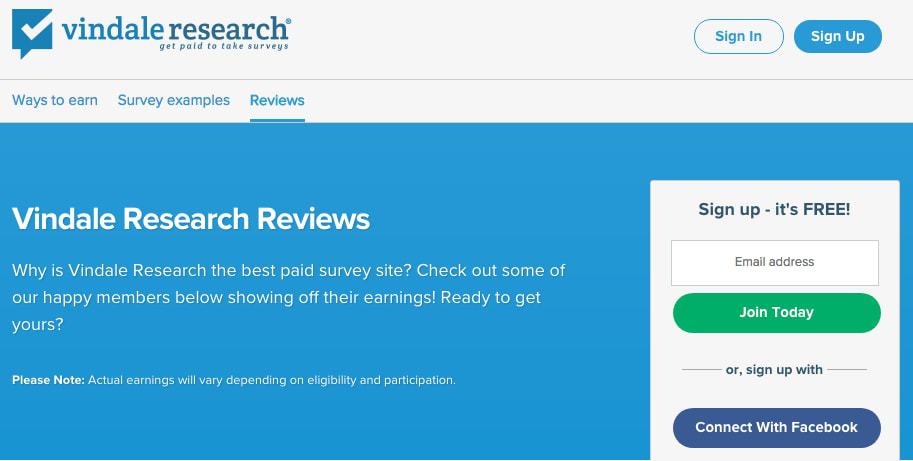 Can I really get paid for my opinion?
Similar to sites like SurveyVoices or Surveyo24.com (a couple of our favorite paid survey sites), Vindale Research is legitimate (read: not a scam) and pays you for your opinion as a consumer.
In fact, collecting your opinion and putting together crazy-detailed reports about what it all means for their clients is Vindale's specialty. Companies use the findings from Vindale by applying the "lessons learned" to improve their products and sharpen marketing focus. Companies like Coca-Cola, Johnson & Johnson, and General Electric (GE) hire firms like Vindale Research every day.
5
Vindale Research login: creating an account was quick and easy for me
It took me less than 2 minutes to join Vindale Research as a free member using my Google login. After that step, I completed my profile. During the Vindale Research login and signup they asked about things like my ZIP code, relationship status, annual household income — the usual.
I was awarded $2 just for filling out my profile. Score! (Get your $2 bonus by signing up here.)
4
Vindale Research Payment Method
Once you reach the minimum cash-out limit, you can choose to receive your payment via check or PayPal.
Here are the ways to make money with Vindale Research
In our full Vindale Research review, we want to be sure to cover all of the ways to make money with this legitimate paid survey site. This site pays members for completing surveys, watching videos, participating in panels, and more. Let's look at the main ways you can earn.
3
Get paid cash for participating in studies
The most popular way to earn money on Vindale Research is through surveys and panels. The majority took me between 5 and 15 minutes to complete and paid $0.50 to $2.00 each. The reward usually showed up instantly in my account, but in some cases, Vindale Research says it can take up to 5 business days to be credited to your account.
Sometimes a study will expire before you can take it. Womp womp.
However, one of the things I like most about Vindale Research is that they use the questions you just answered to suggest another survey — then automatically take you to it. This really cuts down on the number of clicks required to earn with surveys.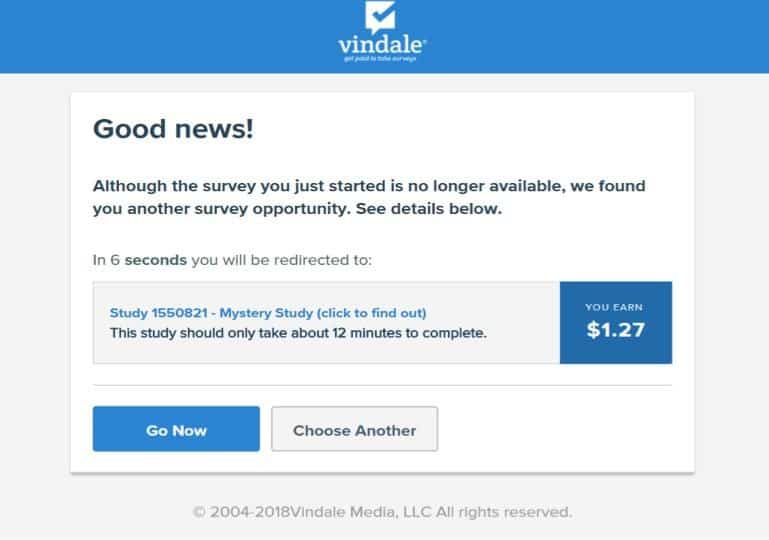 Another thing I want to point out is that they have a browser extension for Google Chrome. This is awesome for getting alerts when new studies come out so you don't miss any!
2
Get paid to watch videos
You know how YouTube and Hulu use ads on their platforms? Or have you ever been asked at an airport to watch a short video clip in exchange for access to free WiFi? (I have and thought it was a totally fair trade. Ha.)
That's what Vindale's videos are like. They just added this section to their site. Videos are typically short advertisements a minute or less in length and pay about $0.05 each.
Vindale Research Review: Pros and Cons
Anything you do online to score cash can have trade-offs. I put together my thoughts on the take-home points after testing out Vindale Research to help you decide if it's right for you!
Vindale Research Pros:
You can always see exactly the dollar amount in your account (versus converting points)
Free to become a member, Vindale Research sign up is quick and simple
Browser extension makes it easy to know when there are new surveys
Variety of ways to earn
Vindale Research Cons:
Surveys seem to expire or fill up quickly
Minimum cash-out limit is $50 (a bit high compared to similar sites)
Website design is a bit clunky and aesthetically unappealing
No mobile app
For new users, the layout and design of Vindale's website may be a turnoff. I have to say, I'm not a huge fan of it myself. However, even though the site is somewhat visually unappealing (at least in my opinion), Vindale Research is still a legitimate paid survey site that pays real cash to its members.
1
Overall, Vindale Research is Worth to Try.
Vindale Research has an interesting array of ways to earn cash. I am not ashamed to admit I really like the reward code challenges because I'm basically being paid to learn a fun fact for cocktail parties (and hey, that random knowledge might come in handy at my local watering hole's trivia night).
Between surveys, panels, bonus sweepstakes, and pop-up earning opportunities, there's a way for everyone to earn money with this survey site. It doesn't promise to make you rich, but it's a fun and easy way to make some extra cash on the side.